Organization.
Quick, at-a-glance overview of your interest database and easy access to what you're looking for.
Filtering.
Need to find a certain name or limit your report to certain records? Smart filters make searching easy.
Events.
Manage and track attendance for all your evangelistic, health, family, and member training events.
Demographics.
Track all the information that's most relevant to you. Those important details will always be a click away.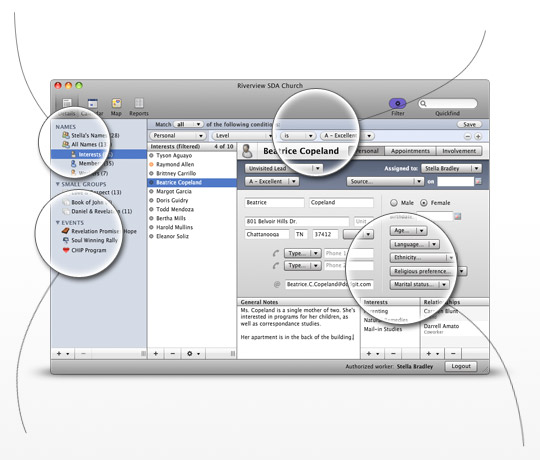 Easy to use.
Intuitive, familiar interface makes Disciples simple and convenient.

Smart filters.
Quickly sort through thousands of records to find just the ones you're looking for.

Multiple churches.
Keep track of all the churches in your district or all the sites in your evangelistic program.

Appointment calendar.
Schedule upcoming appointments and record past ones. Never forget a visit again!

Multiple users.
Allow multiple users to access your data. Specifiy access permissions per user.

Barcode support.
Take event attendance painlessly using any compatible USB barcode scanner.

Powerful reports.
Use the included templates, or create your own. Save as a PDF, export to CSV, or print out a hard copy.